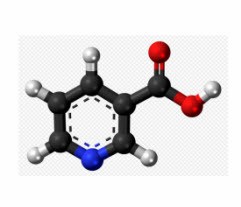 Vitamin B3 | Niacin | Photo: Ephemeronium and Ben Mills
Vitamin B3
| Niacin
There are two topics in this group: nicotinic acid and nicotinamide. Nicotinic acid has a strong vasodilatory effect which manifests itself in the form of an unpleasant burning sensation
Function: Like many other B vitamins are niacin, a coenzyme with an influence on the metabolism of fats, carbohydrates and proteins. Involved in the formation of sex hormones, cortisone, thyroxin and insulin. Involved in energy production and is essential for normal nerve and digestive function. Lowers high blood pressure and high cholesterol.
Consequences of failure and therapeutic use: Severe deficiency causes the disease pellagra (pell agra = dry skin), which primarily affects the skin, central nervous system and digestion. Pellagra is characterized by the four D 's: dermatitis (skin inflammation), diarrhea, dementia (lethargy) and death.
Minor flaws upset stomach's hydrochloric acid production and cause digestive problems and inflammation of the colon. It may occur dizziness, irritability, insomnia, nausea, vomiting and headache. Good results have been achieved at niacinbehandling of migraine. Very large doses have been used successfully in the treatment of schizophrenia and alcoholism. Used for hypoglycemia, high cholesterol and Menière's disease.
Recommended daily dose: 10-20 mg.
Therapeutic dosage: 50-500 mg.
Mega-dose: Up to 5000 mg.
Symptoms of overdose: Very large doses can cause damage to the pancreas, liver and gall bladder. Nicotinamide causes depression in some people.