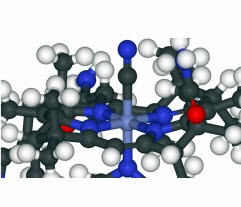 Vitamin B12 | Cobalamin | Photo: Benjah-bmm27
Vitamin B12
| Cobalamin
Function: Involved in the formation of blood and is a coenzyme in the breakdown of fats, carbohydrates and proteins, the synthesis of ribonucleic acid. Prevents toxic liver damage and fatty liver. It stimulates the formation of bile acids and lower blood
Consequences of failure and therapeutic use: Pernicious anemia is treated by doctors with B12 injections. Mental imbalance followed by fatigue, irritability, poor concentration and poor memory. Good results have been achieved in the treatment of migraine, neuralgia, allergies, psoriasis, gout disease and geriatric problems.
Recommended daily dose: 3 mcg.
Therapeutic dosage: 50-100 mcg.
Mega-dose: Up to 2000 mcg.
Symptoms of overdose: Unknown.