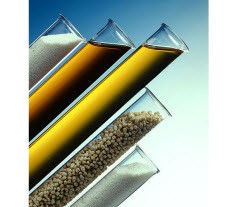 Lecithin | Photo: Helge Höpfner
Lecithin
Lecithin is composed of saturated fatty acids, unsaturated fatty acids,
phosphorus
, and
choline
. It is an important component of cell membranes, mitochondria, connective tissue, bone and nerve tissue. There is a high concentration of nerve tissue and represent 30% of brain dry weight. In healthy people is more than 70% of hepatic fatty tissue of lecithin. High concentrations are also found in heart, bone marrow, kidneys and gonads.
In atherosclerosis, the characteristic rise in serum cholesterol is always accompanied by a corresponding decrease in lecithin concentration. Lecithin breaks down fat molecules into smaller particles, which can easily remain in dissolved form and is free to pass through blood vessel walls to the cells where they are burned.
Cholesterol typically have a melting point of 149 ° C, but when it combines with lecithin and unsaturated fatty acids, they sink to the 0 ° C and is thus liquid at body temperature. The Dutch scientist van Buchen has been through extensive studies have shown that in humans, in which lecithin is more than 36% of the total blood fat, you can not show any atherosclerosis. In people who suffer from the disease, is blood concentration reduced to 34% or less. Van Buchen conclusions are consistent with the results of U.S. trials, where - when the intake of lecithin was enough - proved impossible to induce atherosclerosis in experimental animals, no matter how large amounts of cholesterol, they were lined with. Atherosclerosis, however, could easily be induced when lecitinintaget reduced.
Lecithin is available in a wide range of nutrients and can, as mentioned earlier, is also synthesized in the liver, when the necessary nutrients are present. Lecithin can not be absorbed directly into the bloodstream, but are broken down during digestion into fatty acids, glycerol and
choline
phosphate. In the liver regenerate lecithin and is then combined with cholesterol. Cholesterol re-formed, however, not in its original form, since the fatty acids contained in lecitinmolekylen may be saturated, mono-unsaturated or double-unsaturated, depending on their relationship in the diet. It is therefore important to take the unsaturated fatty acids along with lecithin to ensure that the re-formation of a biologically active form.
Oxidation of unsaturated fatty acids
Unsaturated fatty acids are highly active, which means that the easy part of the chemical compounds with other substances, including oxygen. When the unsaturated fatty acids are oxidized, they lose their valuable biological properties, because the saturation of the oxidation process. While highly hazardous poroxider and free radicals, which are carcinogenic. Unsaturated fatty acids are oxidized when heated, and vegetable oils should never be used for boiling or frying.
It is much safer to use butter in moderation. The widespread use of kokoljor in chips and the like. is particularly dangerous for health.
Oxidation of the unsaturated fatty acids in the organism is very easy to avoid by combining the intake of lecithin and vegetable oils with natural antioxidant that E and vitamin C and
selenium
(see these).
Natural sources
The unsaturated fatty acids and lecithin found in grains, nuts, seeds, olives, avocados and fish. The most abundant variety is in the plant and fish oils. Vegetable oils should be cold pressed.
Needs, and metering
The daily requirement is not fully known, but healthy people can probably cover their needs by using cold-pressed oils like salad dressings, eating sunflower seeds and nuts to the other meals, and possibly with the addition of a few teaspoons or 2-4 capsules of lecithin per day. The following recipes, we have successfully registered patients who suffered from circulatory diseases, eczema, psoriasis, hypoglycemia, obesity, prostate, gall stones, kidney disease, menstrual disorders, infertility, menopausal problems, diabetes, etc.: 1 tablespoon liquid lecithin or lecithin-soluble powder
1 tablespoon safflower oil
1 tablespoon of yogurt (or sour milk or kefir)
1 tablespoon milk
1 / 2 ripe banana or ripe fruit
Thoroughly mixed in a blender or whisk. Can be sprinkled with crushed flax seeds, fresh fruits, nuts and raisins.
This mixture is delicious and causes no problems for people who normally do not have any trouble taking oil. You can take it 1-2 times daily, as needed.