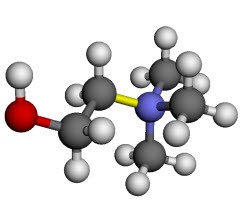 Choline | Photo: Totot
Choline
Choline is a member of the group of B vitamins and is included as a component of lecitinmolekylen.
Lecithin
is therefore a good source of choline.
Function: Promotes the synthesis of
lecithin
in the liver. Improves function of liver, gall bladder, adrenals, gonads, heart and circulation. Strengthens capillary walls, improve blood circulation in the eye and forms a substance in the brain that improves memory. It dissolves fats and lowers blood cholesterol. It is experimentally proved that the size of fat particles in the blood reduces the intake of choline.
Consequences of failure and therapeutic use: Used in the treatment of circulatory, heart, liver and gallbladder. Cataracts and burst blood vessels in the eye. Poor memory and hormonal disorders.
Recommended daily dose: Not a solid team, but the need is probably 500-900 mg.
Therapeutic dosage: 1000-2000 mg.
Symptoms of overdose: Unknown at daily doses over 6000 mg.