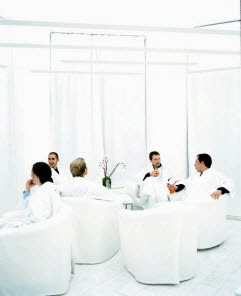 Radical Psychiatry | Photo: Martin S
Radical Psychiatry
includes social relations in their analysis and treatment and strives for a balance between mind, body and emotion. Radical Psychiatry is also known as radical therapy (RT). The method has its origin and center in San Francisco, USA. During the student movement in the late 1960s grew out of a need for a
political therapy
, a radical alternative to the traditional and institutional psychiatric care. The word psychiatry means soul in Greek medicine, and it was felt that psychiatry does not necessarily have to be exercised in a hospital.
A prominent figure in the formation of radical psychiatry was Claude Steiner, who worked with transactional analysis (TA), a method which, unlike traditional psychoanalysis focuses on what happens between people, rather than within them. Other influences of radical psychiatry is the anti-psychiatry movement with RD Laing in the lead, and feminism and Marxism, which stresses the need to focus primarily on the material reality we all live in.
Radical Psychiatry is based on the assumption that all people are good and can develop in a positive way if they live in a life-affirming environment. The reasons for people's power is reduced is mainly found in circumstances outside of themselves. It is important to first examine the man's material conditions, then to map the internal repression and deduce it to the external causes that may be of social, economic or political nature.
The radical psychiatry aims to get people to regain full consciousness on three consecutive planes must be in balance: intellect, emotion and body. Some elements of the therapy is to highlight and address different destructive message that people are fed since young years, to affirm their feelings and see them as an asset.
Radical Psychiatry is practically oriented, and we are happy to work in groups. These have the advantage that one can see and hear that others feel the same as oneself, it is possible to identify with others. A common variant is the problem-solving groups, which seeks to change his life in collaboration with others. Radical Psychiatry is also a method of cooperation to resolve conflicts and relationship difficulties, so-called mediation. It mediates between parents and children, in love relationships, in vänskapsförhallanden and in different groups.
In Sweden there are only a few people who work professionally with radical psychiatry, the more use of these methods in various self-help groups, women's groups, etc.