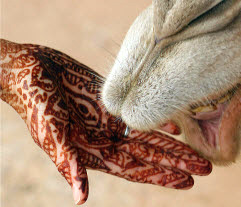 Mahikari | Photo: David Dennis
Mahikari
is a method of physical and spiritual purification by light energy, radiating from the palm.
Mahikari is a Japanese word meaning true or divine light. Mahikari is also the name of an organized spiritual movement, which aims to help people become free from various problems. This is done by purifying them with the true light, a spiritual energy that radiated from his palm. The trick to doing this thereby purify people and objects called Mahikari No Waza. An important goal of business is to prepare a new civilization to be established in the next century, and that emphasize the spiritual rather than as now the material.
Mahikari movement arose in Japan in the 1950s, and has since spread to North and South America, Africa, Western Europe and Australia etc. countries. For some years there Mahikari represented in Sweden. Author is Japanese Kotama Okada, who in 1959 received the first of several revelations. The first task he was lifting his hand to cleanse the world and to give this power to anyone who wanted it. By receiving the true light, each one feel that "God is Light." Okada says that God is in everything, nothing exists apart from God - all is one. Okada was named Sukui Nushi Sama - humanity's savior. Since 1974, his daughter Keiju Okada been the spiritual leader of Mahikari named Oshi Nushi Sama.
Member of Mahikari you become after undergoing a three-day initieringskurs (kenshu) and at the end of the receipt of a sacred amulet, Omitama. The name Omitama means holy spirit, or great soul. The amulet is described as a lens that focuses the light of God. People who have Omitama said radiate light energy from your hands. When this light is directed towards the area around the pineal gland, located behind the forehead, said the person is purified in body and soul, a treatment called Okiyome. Even items such as food and water are said in this way can be purified from such various environmental toxins.
Mahikari movement stresses that method is not the same as healing, but healing is more a byproduct of purification. By purifying the one becomes a person who does not undergo purges in the form of the disease. Mahikari-light said to be able to remove the physical, spiritual and mental problems. The main goal is that all must become better servants of God, the Creator.
Mahikari School includes beliefs about reincarnation, karma, and astral world. The world consists of a astral world (the spirit) and partly a inkarnatorisk world (the body). After physical death living human soul (astral body) forward, and can later be reborn in another body. The cycle of death and rebirth continues until the true self is sufficiently purified to enter into "the divine spirit world," Paradise. Mahikari is a way to purify themselves and process their karma.