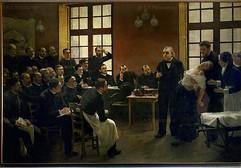 Hypnotherapy | Photo: André Brouillet
Hypnotherapy
is a technique that combines the power of suggestion and an altered state of consciousness, usually in order to bring about a change in behavior.
Hypnosis is a Greek word meaning sleep. In therapeutic contexts, the word for an altered state of consciousness, usually induced by suggestion.
In the hypnotic state of consciousness associated critical function more or less removed, whereby the power of suggestion engines can be incorporated uncritically. Hypnosis is used both as a psychodynamic analysis and treatment of bodily or mental disorders, etc. The method can also be combined with other medical and psychological techniques. Another name for some hypnotherapy is suggestion therapy.
Hypnotic state is a known phenomenon for thousands of years in different cultures, usually in religious contexts among the Celts, Druids, Indians, Persians, Chinese, Greeks and Egyptians. Ebers papyrus from 1500 BC contains the first description of medical uses of hypnosis.
A former term for hypnosis was mesmerism, named after the Austrian physician Franz Anton Mesmer (1734-1815), based in Paris. His hypnosis method with "magnetized hand deletions" induced "crisis" with muscle cramps and a swoon-like state as a result, after which his patients came to their senses exhausted, but healed. Mesmer's theories of an animal magnetism (see also section on Magnetic therapy) did that he fell into disrepute and had to cease trading.
The Scottish physician James Braid (1795-1860) has been called the father of hypnosis, it was he who characterized the notion of hypnosis and defined it as a kind of suggestion.
There are two types of hypnosis: auto-hypnosis (self hypnosis) and hetero-hypnosis, then an outside hypnotist gives instructions and suggestions. Actually, however, all hypnosis is said to be self-hypnosis, then the prerequisite for the success of hypnosis is that it to be hypnotized is willing to listen to and follow the hypnotist's instructions. The hypnotized person is always aware of what's happening. Susceptibility to hypnosis vary greatly among individuals.
Hypnosis usually contain the following phenomena: - Hyper Amnesia: a superior erinringsförmåga.
- Regression: returning to earlier stages of development (often in combination with Hyper Amnesia).
- Posthypnotic suggestion: suggestion given during hypnosis, but that seems afterwards when awake.
Typically the hypnotist puts the patient in a state of calm and relaxation by evoke relaxation of various body parts in turn. The patient is asked to breathe with the calm, deep breathing and listening to the hypnotist's instructions. When a deep relaxation achieved, various suggestions used to influence the patient's attitudes toward whatever it may be.
Hypnosis can be used both for analysis and treatment.
Hypnoanalys, a combination of hypnosis and psychoanalysis, used as of psychodynamically oriented therapists. Hypnosis speeds up the process of uncovering unconscious material, and information that is relevant to the treatment under hypnosis can be obtained faster than by calling. A variant of hypnoanalys is that the therapist hypnotize patients to the activity that the therapist believes is the true cause of the problem, after which the patient's reactions are studied. The method is also used to achieve regression of various forms of rebirthingterapier.
As hypnotherapy treatment can be used as part of self-confidence training as unfavorable attitudes "avprogrammeras" and the new is learned, the stunning view at the dentist and the treatment of various psychosomatic problems. There is also a non-therapeutic, more enhancement and self-hypnosis with the development application in areas such as sports, learning, dance and other artistic activities.