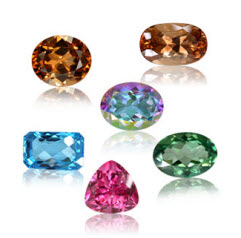 Gemstone Therapy
Gemstone therapy
is defined as precious stones of different colors used in the prevention and treatment purposes in physical and mental problems.
The use of gemstones for therapeutic purposes has a long history of unknown origin, but has been practiced including in India since thousands of years. The background is precious stones associated with color and light. Man is considered - as well as gems - radiate the spectrum of colors: violet, indigo, blue, green, yellow, orange and red. All matter, incl. the living, has its own energy patterns and each pattern is considered to be related to the spectrum colors.
The seven colors of the spectrum is related to the seven
chakras
, energy centers in the body. Each chakra corresponds to a color and a certain part of the body. The colors and precious stones are also considered to be related to planetary constellations and astrological symbols.
A particular gem is selected as a therapeutic agent based on the symptoms associated with the stone and sometimes even the astrological constellation. The stone can then eg be worn or be there to watch.
See also
Color Therapy
and
Crystal Therapy
.