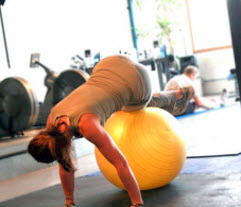 Kinesiology
Biokinesiologi is a combination of different methods to identify and correct imbalances in the body using muscle testing.
Kinesiology
means the study of body movement and is a collective term for various methods that have manual muscle testing as a common denominator. Biokinesiologin (or biokinetiken), designed by American architect John E. Barton, is composed of a variety of diagnostic and therapeutic techniques. A base is Chinese medicine and
acupuncture
theory, another essential element is
Applied Kinesiology
and its simplified variant
body balancing
(see this section). The starting point in biokinesiologin is the body's kinetic (motion) and tonusbalans (voltage balance between the muscles).
In biokinesiologin use a more detailed form of muscle testing than in
Applied Kinesiology
. Instead of testing an entire muscle, so try to test the muscle of different elements: brackets, tendon, muscle belly, etc., which it believes all have different relationships to other parts of the body. It has also produced nutrients associated with each muscle (weak muscle are considered to indicate a lack of a particular nutrient).
Biokinesiologin includes various methods for measuring body allmäntillsrånd and examine the factors that may underlie an imbalance of muscle tone: stress, poor diets, metal poisoning, sources of electromagnetic interference, physiological changes, etc. In the diagnostic arsenal includes pulse diagnosis according to the Chinese model, testing the
acupuncture
points, a urine and saliva method, etc. The latter method, which was first used in 1984, is reported to indicate imbalances caused by allergies and poisoning. Depending on the problems found, are given individually tailored treatments, for example, consisting of correction of: A. The body's meridians and energy centers (acupressure,
body balancing
, etc.).
B. Mechanical defects, such as oblique stance (T'ai Chi Chuan, Mensendieck etc.).
C. Stress factors, social relationships, etc. It uses methods that ESR (Emotional Stress Release) for relief of emotional problems (see Educational Kinesiology) and Socrates method, described as a simple questioning technique that gives the person the opportunity to "talk to itself" and self-analyze their problems without being countered by moral comment.
D. External sources of interference such as noise, adverse electromagnetic radiation, improper posture, etc. In addition to the external conditions can be corrected or avoided, is body balance and specific biokinetic exercises to try to harmonize the body's electromagnetic energies.
E. Allergies and faulty eating habits. This applied different means to detoxify the body and strengthen resilience: diet, cleansing and nutritional supplements; including used biopatins program of biological regeneration.
F. Incorrect pattern of life, as it falls on the person himself to discover and correct.
Biokinesiologin said to be based on the Gospel of John 1:1,4:
- In the beginning was the word.
- The word was life and the life was the light of men.
Typical of biokinesiologin is the use of känsloord, believing that this is related to all tissues in the body (muscles, bones, organs, etc.). When testing such as an energy centers in the abdomen (bukchakrat, hara) controlled the body's tendons. If the tendon is found to be weak in the muscle test, the abdomen is tense, etc., so it is considered indicative of imbalance in the energy center. The disturbance may be caused by debilitating mood of despair, doubt and despair. A känsloord that when used in reinforcing a view is "hope." The basic emotion words have biokinesiologerna taken from Galatians in the Bible (Paul's letter to the Galatians 5:22-23).
Several of the methods used in biokinesiologin described under separate headings elsewhere in the material.