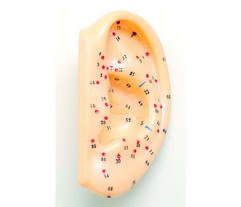 Auriculotherapy | Photo: Wouterhagens
Auriculotherapy
(ear acupuncture) means that by stimulation of points on the ear affect parts of the body of reflexological road.
Auriculotherapy (ear acupuncture) is to consider certain points on the outer ear (auricula = earpiece), usually by
acupuncture
or massage. The method of stimulating points on the ear when disease is known from both ancient Egypt and the traditional Chinese medicine. In the classic scripture Nei Ching is written that all the meridians meet in the ear, and that is the focal point for all energies. In Egypt, used ear treatment including as a contraceptive method: to cut or stick at certain points on the ear could lead to sterility. Hippocrates mentioned ear treatment and thought it could help with sciatica pain.
The French physician Paul Nogi coined the term auriculotherapy and developed the more modern variant of the method in the 1950s - and '60s. Nogi was the method of the tracks when he discovered that patients in his practice as the processor in Algeria had been burned in a certain place in the ear to the sciatic pain had got rid of the pain. Nogi began to map out the relationship between points on the auricle and the various organs and disease states. He presented the theory that the whole body is represented in the ear, and that the treatment seems to reflexological road. The ear reflects the body in the form of an inverted fetus.
Other French doctor who worked with
acupuncture
was interested in Nogiers theory and continued development. Today is both a French and a Chinese school in auriculoterapin, with partly different punktlokalisationer In
China
, the method in its present form has been used since 1956. Over 200 different points on the ear have been located, of which 73 are most commonly used.
The most common method of treatment is
acupuncture
on the ear. Here are the points smaller in diameter than the
acupuncture
points along the body's meridians, while they are very tight. Points in the ear can find them in different ways: - via electronic instrument that reacts when a knee-point is electrically active, which is said to indicate a disturbance in the corresponding organs of the body;
- Ear may be sensitive to pressure at the point to be addressed,
- The ear's appearance is studied with respect to blistering, cracking, red spots, etc.
Points on the ear is thus used both for diagnosis and treatment. Auriculotherapy (ear acupuncture) is used as a preventive treatment, supportive resources for detoxification and weaning of various addictive substances as well as in pain management, anesthesia and treatment of disorders of various body functions.