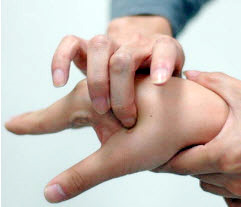 Applied Physiology
Applied Physiology
is a form of
kinesiology
that combines manual muscle testing with other methods to detect and regulate the disturbances in the body's energy balance.
Applied Physiology, Applied Physiology, has been developed by the American Richard D utt. The method is defined as "the study of the physical, mental, chemical, and spiritual body's functioning and development of balance and imbalance, including
acupressure
, kinestesi, herbal medicine, metaphysics,
homeopathy
and massage, etc., using
acupuncture
points to measure the body's energy flows, everything that is natural to achieve homeostasis "(balance).
The starting point of Applied Physiology (AP) is the body's life force is an energy that can be measured by means of muscle testing and
acupuncture
points. The tests give a picture of the current state of the body's functions.
The AP is assumed that the
acupuncture
points controlling energetic forces that can be independent of their resp. meridians. Items considered to be related to other reflective systems such as Bennett's neurovascular points, and Chapman's neuro-lymphatic points. By keeping an
acupuncture
point seeks to locate the upper and lower energies in different systems.
As in
Applied Kinesiology
(see this section) includes muscle testing in the AP. In
Applied Kinesiology
test muscles only in abstract (vs. extracted) mode to see if they are weak or strong. The AP tested muscles also stretched (extenders) mode. It also says here that a muscle can not only be strong or weak, but that it can be in several different states, all of which can provide a guide to subsequent treatment. Testing example if the muscles are "frozen". With a small flat magnet, where the negative pole placed in the contracted muscle and the plus pole of the extenders muscle, trying to weaken a muscle that has proved strong. Well-balanced muscles becomes weak, while a muscle that remains strong, characterized as "frozen". Homeostasis is a muscle that is strong and well balanced in both counter-extracted as extenders mode.
Unbalanced muscles indicates disturbances treated by various methods depending on the nature of the problem. One way is to affect muscles directly by stimulating certain cells in the muscles. Other ways are, as mentioned initially,
acupressure
, herbal medicine,
homeopathy
, massage, etc.
Acupressure
is used in AP also to influence the
chakras
(energy centers) in the body.