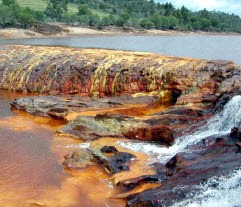 Iron | Photo: Joan Joc
Iron
Iron is primarily in the red cell hemoglobin, a small portion of red muscle pigment, myoglobin. Small amounts are dissolved in the blood plasma and body fluids and is a constituent of a wide range of enzymes. Approximately 20% is deposited in the liver, bone marrow Alte, from where it can be mobilized when necessary.
Function: As a component of hemoglobin iron transporting oxygen from the lungs to all cells and carbon dioxide, the opposite path. It is part of enzymes in the mitochondria control cell respiration processes.
Consequences of deficiency: Iron deficiency occurs unable for reasons inadequate supply through diet, but perhaps the most common cause is problems with absorption in the intestine. Deficiency may also caused by deficit of stomach acid and lack of B6, B12, C, folic acid,
zinc
,
copper
or
manganese
. Iron Deficits can lead to anemia, cancer, liver disorders, chronic gout in the joints, and susceptibility to infection.
Recommended daily dose: Men - 12 mg. Women - 18 mg.
Symptoms of overdose: Overdose of iron for extended periods can cause hämosideros (deposition of iron in the tissues), especially in the liver, spleen, pancreas, heart and joints.
Sources: organ meats (especially liver), eggs, molasses, fish, poultry, leafy greens, whole grains, prunes, raisins, brewer's yeast, beets, wheat germ, sesame and sunflower seeds, bananas, peaches and apricots.