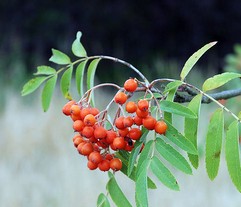 Rowan | Photo: M. Dortmund
Sorbus aucauparia L.
Rosaceae
Rosaceae
Rowan
is a modest tree with leaves resembling askeus and dense white umbels which during the summer turned into glorious red fruit stands. In late fall and winter visit this mountain ashes of birds that eat the fruits bärlika. Since the birds relinquishes the seeds undigested mourn, they also involuntarily for tree breeding. The Latin species name aucuparia comes from aucipium, bird trapping, and suggests that previously used the rowan berries as bait when you could catch birds. Raw is the rowan berries are not very enjoyable for man, but with sugar may be prepared to jam, marmalade and jelly. They are rich in vitamin C and has formerly been used as a remedy for scurvy, and also against kidney stones. Rowan has previously been important as fodder plant. With berries, you can also flavor vinegar, brandy and liqueurs.
The Southern European common rowan, Sorbus domestica, have larger and sweeter fruits than our mountain ash, the medical properties is similar.
Occurrence: General across the country, even in poor sandy soil and heathland. Light Demanding often grows in forests, pastures and thickets.
Characteristics: Shrub or up to 20 m tall tree with rather loose crown. Bark greyish, later uppsprickande. Pinnate leaves, stems, consisting of 9-19 broad lanceolate leaflets plus uddblad. All sheets sawed. Flowers white (June), small, in the broom like inflorescences. 5 triangular sepals, five petals, 20 stamens, usually three pins. Fruits bärlika, first yellow later deep red (August), about 1 cm in diameter. Smell weak. Taste very sour, bitter.
Using parts: Berries, dried or cooked.
Ingredients: Ascorbic acid (vitamin C) and chemically related pair orbital acid D-sorbitol. Pectin, the fruit peel a-and f-carotene.
Medical effects: Prevents and heals scurvy. Mild laxative. Diuretic.
Usage: When scurvy. For tasty jelly.