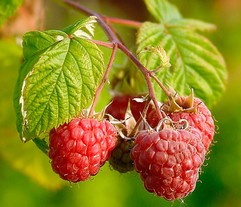 Raspberries | Photo: Juhanson
Rubus idaeus
Rosaceae
Rosaceae
Raspberry is a half shrub that is related to the blackberry and cloudberries. From its soil strain develops each year establish tribes. These bears flowers and fruit, until the second year and then die. This means that you usually can pick berries from the raspberry bush year after year.
There are currently several hundred cultivated raspberry varieties (in Sweden, this is significantly less) in which the berries color ranges from deep red to white. The cultivation of
raspberries
picked up in the Middle Ages. The berries were known and appreciated long before, as evidenced by several findings of raspberry seeds of prehistoric settlements. In the 1700s it was considered that the raspberries were far superior to the Future "medicine" to heart conditions, namely, crushed pearls. Fresh raspberries seem mild laxative. Raspberries are also used as a flavor-enhancing agents in medicines for children. In our country the berries are used primarily for juice and jam, but elsewhere is often raspberries in wine, vinegar, syrups and liqueurs. Of the collected leaves at flowering, which is dried, you can prepare a tasty tea with stopping effect.
Occurrence: General throughout the country except the far north and on Gotland. Often grows in dense stands in clearings and on forest roads, where the soil is nitrogen-rich. Often cultivated and wild.
Characteristics: Semi-bush, 1-2 m high. From the rhizome grows out underground runners and set up, two-year shoots, which bear flowers until the second year. The bark is småtaggig. Leaves on top Ijusgröna, underneath whitish with 3-5 toothed leaflets. Flowers whitish (June-August) with five small draw petals, numerous stamens and pistils. Fruit red, ovoid, composed of several small, short-haired stone fruit, remove it from the pin-shaped fruit holder. Odor pleasant. Sweet and sour taste.
Using plant parts: Leaves, collected during flowering.
Content Topics: Tanning preparations and traces of essential oil.
Medical effects: Antidiarroisk.
Usage: Internally for diarrhea, a mixture of bear is worn and raspberry leaves as tea. The leaves are dried in piles, with a fermentation takes place, the leaves may be green-brown color and become aromatic. Topical as gargle for mouth and throat inflammations. For swimming in chronic wounds.