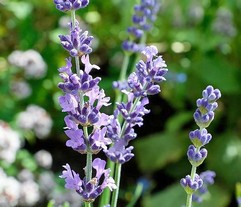 Lavender | Photo: Christer Johansson
Lavandula angustifolia
CRANE Flowering plants
Lamiaceae
Lavender
in our country is a popular hedge plant. The largest plantations of lavender in France (Provence) and Hungary. Lavender Oil, extracted from flowers, used especially in the manufacture of perfumes, eau de cologne, soap, etc. The use of lavender for bathing and washing is very old dating back to its name, which ultimately comes from the Latin word lavare, wash .
Lavender promotes somewhat gallsekretionen and they ascribe it also a sedative effect. A tincture of dried lavender flowers are used internally as antispasmodic, diuretic and "daring" means; topical as sårmedel. For centuries, people have used dried lavender flowering branches as a means to grind. In the linen closet, the sooner small embroidered lavender bags which gave her shift a pleasant smell of lavender. The leaves can be used as a spice in stews, especially at the game.
Also relatives of lavender, Lavandula stoechas, with its purple flowers and l avandula latifolia, collected because of its medicinal properties and for essential oil extraction.
Presence: Indigenous in the Mediterranean, where it grows on sunny slopes on calcareous bedrock. Grown mostly in southern Europe. In southern Scandinavia grown as both useful and ornamental plants.
Appearance: A 30-60 cm high, half shrub with ascending branches sprawling Leaves gray-green, linear, with full rolled edge. Violet blue flowers (July-August), sitting in the top pledged axlika inflorescences. Bracts reddish-feed femtandat, crown with a long drawn-out tube, femflikig. Stamens fourth Aromatic scent. Taste bitter.
Using parts of plants: Flowers For essential oil extraction fresh, flowering branch tips.
Ingredients: Essential oil with 30-60% esters, mainly linalylacetat, and geraniol, I linool, limonene and cineole something.
Medical effects: Internal weak sedative, galldrivande and diuretic. Topical hudretande, increases blood flow.
Use: Mainly in the perfume industry as a smell-improving agent. Topical as painkillers for lumbago and rheumatic disorders (increased blood flow).