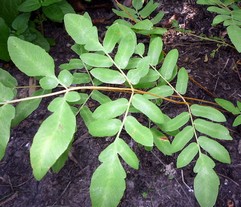 Kungsbräken | Photo: Jim Kingdon
Riverbanks
Säfsen
KUNGSBRÄKEN
VÄXTER
Osmundaceae
Kungsbräken is a stately fern, which is two meters high. It grows in lakes and streams. Rhizome winter in the damp soil, and from the shoots every spring a bunch of pale leaves up, curled in the lead as bishop's crozier. Gradually they roll up and spreading leaf disc. While some leaves are tall as a man leans second soft against the ground. At the top of some leaves unfolds axliknande sporställningar: they are special, fertile leaf parts full of sporgömmen which when ripe splits down the sides and releases spores. As the continuous distribution of the wet plant sites are kungsbräken increasingly rare, and in many areas here and in Central Europe have been forced peace to shine on.
Sporställningen and rhizome formerly used as a means of rickets and child tuberculosis. Soil strain is thought to work diuretic, removal and astringent and wound healing. On the French countryside used kungsbräkenblad to beds that allegedly have a beneficial effect on poor children and rheumatism.
Occurrence: Rare along shady creek and watercourses perhaps mainly in Småland and Västergötland, but also in other parts of the country north to Gästrikland. In several counties protected.
Characteristics: A magnificent 60-200 cm tall fern. Perennial. Blade first furled like a bishop's staff, amber-like, later, establish and spread, green, bald and double pardelade. Sheet Tabs nearly opposite, helbräddade or sawed with blunt tips and obliquely truncated base. On some leaves a sporangiebärande part in the summit. This fertile part is vippformad and the first yellow, later brown in color. Rhizome is vertical and meaty with a twisted birötter.
Using parts: Earth Tribal and leaves, collected in late summer. After washing, fast drying in an oven. Store airtight.
Content Topics: Tanning preparations.
Medical action: Laxative, diuretic, astringent, wound-healing.
Usage: Internally for constipation and kidney and bladder stones. Topical products for wound healing.