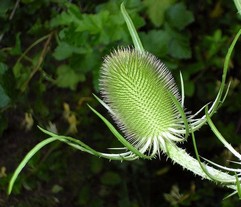 Kardtistel | Photo: Simon Eugster
Dipsacus sylvestris
TEASEL, vävarkarda
VÄDDVÄXTER
Dipsacaceae
Kardtistel
n does not belong to the family basket of flowering plants as thistles, but the family väddväxter. It belongs in the Mediterranean, but due to the spiny fruit positions could be used in roughening of woolen fabrics - hence the names kardtistel and vävarkarda - grown the past all over Europe; feral specimens can still be found in our country.
The Latin genus name Dipsacus considered to come from the Greek words dipsan akeomai (I combats thirst), and in fact, they form large, opposite, at the base hopväxta leaves a kind of containers that capture rainwater. A peculiarity of kardtisteln is that the small Ijuslila flowers that make up the large oval flower baskets do not come out from the bottom up. The bloom starts instead rimfire at floral basket in the middle, after which it is spreading up and down while the first knocked the flowers wither. In folk medicine, the rainwater collected in the leaf folds used as a remedy for freckles and warts and eyes water.
Presence: Indigenous in South and Central Europe on bare or sparsely vegetated sites on the wet surface. Occasional in waste places in southern Sweden.
Characteristics: A thick, 80-150 cm tall biennial herb with a strong stem, which, like the leaves are prickly. The dry stalks are left over the winter and winter stamens. Leaves entire, opposite, adorned with white spots. Leaf pairs are partially skålformigt fused at the base, where, rain and dew collected. Flowers Ijuslila (July-August) in a conical, about 6 inches long, head-like collection. Each corolla is tubular with 4 tabs. Feed heavily stunted. Fruits with eight lofty ridges. Using parts of plants: Root, collected in late summer and cut into pieces before being dried.
Ingredients: mineral salts, glycosides.
Medical effects: appetite stimulant, diuretic, perspiring.
Uses: No medicinal use now.