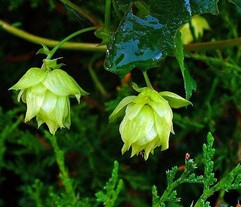 Hops | Photo: H. Zell
Humulus lupulus
HEMP PLANTS
Cannabaceae
Hops
growing usually near water, previously was the subject of an extensive cultivation - Humlegården in Stockholm is a reminder of that. From the rhizome develops a long shot that winds counterclockwise ceases tree trunks and branches. Hops Leaves feel rough and are handflikiga. Hops are dioecious, and only the female component plants - the cone as inflorescences, "hop-pox '- which will be used, medically and in brewing.
The yellowish glands on the female cone scale-like leaves contain a secretion with a calming effect. An old advice to the sleepless is to use a pillow stuffed with humlekoppor, but in his Örtabok quotes Linnaeus some cautionary words from a
book
on the hop by Olaus Bromelius from 1687: "If someone is sleeping on cushions, as with fresh hops uppfylte are, care he completely dizzy UTI head, as if he were drunk, And therefore is best, And therefore to take advantage of. " Hops Pillows were used as hypnotic agents in field hospitals during the First World War. In some areas served in the spring, hop shoots DO like asparagus.
NOTE! The smell may cause dizziness or drowsiness!
Occurrence: Somewhat common wild in moist, fertile soil for up to Jämtland and Ångermanland and along the coast of Norrbotten.
Characteristics: A climbing, perennial herb, can be 5-7 m high. Stem annual, angular, with klätterhar; winds always right. Leaves opposite, deeply handflikiga, strive, Freshwater. Flowers yellowish-green (June-July), male and female flowers on separate individuals. Male flowers in thick bundles. Female flowers cone-like postures have a wrapper with glands containing bitter substance lupulon. Smell strongly aromatic, taste bitter.
Using parts: The whole fruit position with glandular hairs on täckbladens inside.
Content Topics: The hare gland volatile oil (about 0.5%) with myrcen, humulen, borneolvaleriansyraester. Resin (10-15%) with bitter substances humulon and lupulon. which the storage is converted to the corresponding isoföreningar.
Medical effects: Slightly sedative effect.
Use: Combined with
valerian
as a sedative.