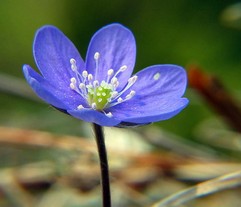 Hepatica | Photo: Jonas Bergsten
Hepatica
nobilis
RANUNKELVÄXTER
Ranunculaceae
Liverwort occurs mainly in forests where the soil is rich in nutrients. The characteristic leaves are leathery and hibernates under the snow. Early in the defense beat the first graceful flowers out, before the new leaves have developed.
Shape of the leaves gave the herb its Latin name hepatica - it comes from the Greek word for liver, hepar. According to the medieval doctrine of signatures would live leaf-like shape and their red color underneath to indicate that they were active against liver diseases. Aside from a very diluted alcohol extracts used in
homeopathy
as remedy for bronchitis, the liverwort today hardly to use as medicinal plant. Dried used it before as diuretics, against kidney stones and sårmedel.
According to a widespread folk belief makes you healthy throughout the coming year if you eat the first spring hepatica, but since the herb contains toxic substances should never use either the flowers, roots and fresh leaves for internal use.
NOTE! Toxic if taken internally!
Presence: Local public from Skåne to Hälsingland, dispersed in sydberg the southernmost county of Västerbotten. Growing in forests and groves, especially on calcareous ground.
Characteristics: Height 80-20 cm. Rosette Plant, no stem above the ground. Leaves hairy and young, then bald, wintering, leathery, treflikiga, during the red-brown, growing out from the short rhizome. Flowers in March-May, blue-purple, rarely pink or white; three shafted sepals similar bracts, 6-9 petals, 20 stamens and numerous pistils with short pin. Bitter taste.
Using plant parts: Leaves.
Content Topics: Glycosides ranunculin, which is split into glucose and protoanemonin. Protoanemonin is unstable, has been burning taste, is bluish-avoidance and converted in the dried leaves to anemonin, which are crystalline and do not blow pulling power. Saponins.
Medical effects: Wound healing promoters, astringent, diuretic.
Use: Topical to accelerate wound healing. Now mainly of historical interest.