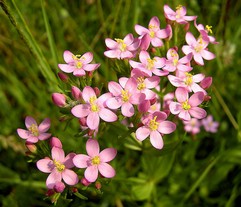 Flockarun | Photo: Hans Hillewaert
Centaurium erythraea
Tusengyllenört
GENTIANAVÄXTER
Gentianaceae
An idea of ​​this district properties, and the importance it has attached to it, get it of its scientific and popular names. The generic name refers to the centaur Chiron, who according to myth used this herb as he would deal with Heracles for a wound from an arrow.
Flockarun
also called tusengyllenört, due to a misinterpretation of the name Centaurium as a composite of the Latin words Centum, a hundred, and aurum gold, although the Swedish stage name Arun comes from Aurum. Then raise one hundred thousand to emphasize the healing herb.
Romans used flockarun as fever, and later was used as a substitute for the precious
china
bark. Throughout the Middle Ages it was considered very effective against a wide range of ailments, from jaundice to snakebite. The herb contains bitter substances of the same variety found in gullgentiana, and a tea prepared from the leaves used to this day as an appetizer and a nerve agent. Right-dried and kept holding it for a long time without losing either its looks or its medicinal properties.
Occurrence: In the grassy slopes. meadows and at roadsides quite rare in the Southeast. Now less common.
Characteristics: A 10-50cm high, wintering bald annual herb with a rosette of leaves at the base and opposite leaves along the stem. Rosette Leaves oval, usually 5-nervy, stem leaves smaller. Flowers rose-red (July-August) on the short arm, in dense bundles in the stem tip tubular lining, crown bottom tube-like structures at the base with five widely used blunt tabs, 5 stamens whose buttons change shape after having delivered their pollen. The fruit consists of a capsule, which splits up with two vaults.
Using parts: above-ground portion of the city in the stage of flowering.
Content Topics: Bitter Classification. Glycoside erythrocentaurin, tied to sugar, and related topics, in more flowers than in stems. Resin, oleanolsyra.
Medical effect: Increases the release of saliva, gastric and intestinal juices, thereby increasing digestion and hunger.
Use: As an appetite stimulant. Earlier that antipyretics. Ingredient in vermouth.