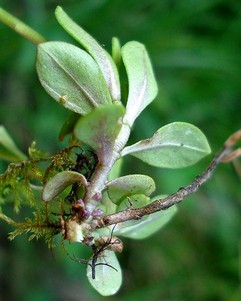 Rosettjungfrulin | Photo: Fornax
Polygala amarella Crantz
JUNGRULINVÄXTER
Polygalaceae
Rosettjungfrulin
was given before breast-feeding women to increase milk secretion. The plant was mixed in animal feed. The family name Polygala is a concatenation of the Greek words polys, much, and gala, milk, but if the plant really affected milk secretion is to say the least questionable. It is also uncertain whether the name Polygala in the older writers are of the same plants as the days goes by the designation.
It is estimated that on earth there are about five hundred jungfrulinväxter, of which about thirty occur in Europe and three in Sweden. The most important of Polygala
SENEGA
from North America. Seneca Indians, who lived in the western part of what is now New York State, it was used against snake bites, and in Europe it is estimated that upphostningsbefrämjande equivalents, catarrhs ​​of the respiratory system and for its diuretic properties. Rosette Virgin Linet, occurring in southern and central Sweden, possess similar properties.
Occurrence: Somewhat common in the South East, in other less public from Skåne to Jämtland. Grows in swamps and meadows, preferably limestone areas.
Characteristics: A perennial, 50-10 cm tall herb with short, horizontal stem from which they usually unbranched flowering shoots rise up. Ground leaf in rosette at the base of the flower shoots, larger than stem leaves. Leaves elliptic lanceolate Flowers are usually blue-violet (June in dense many-flowered clusters sepals 5, 3 feed equal, two enlarged, particularly in color, three petals, the anterior rännformigt and tassels, 8 stamens. Fruit a small flattened capsule. Rot thin, hunk . Taste pungent, very bitter.
Using parts: The entire above-ground portion, dried in shade or sun.
Content Topics: saponins polypalasyra and senegin. Bitter substance polygamarin. Tanning. Traces of essential oil with methyl salicylate.
Medical effects: Upphostningsbefrämjande, diuretic, delisting.
Usage: For coughs and bronchitis, even with asthmatic component.