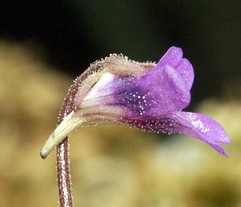 Butterwort | Photo: H. Bernd
Pinguicula vulgaris L.
The usual urban, dense, dense milk
TÄTÖRTSVÄXTER
Lentibulariaceae
Agglomeration of small, fat-like shiny rosette leaves grow densely printed for the moist soil in swamps and marshy meadows. The flowers have some resemblance to violets, but the town is actually a dangerous plant - for small insects. The leaves are covered with glands - up to 25000 on a square inch! - Which secretes a sticky mucus in which insects are trapped. While leaf curl over the victim begins to other glands secrete an enzyme that dissolves the insect. After about three days is only indigestible parts such as wings and legs remain, and even these disappear gradually. At the dissolution of the insects secrete tätörtsbladen an antiseptic herbicide that inhibits victims' decay.
It is said that if you rub the bottom of a vessel with urban slime and pour in fresh milk, after a few days, heavy or long milk. However, there is no evidence of this. The herb is considered calming and a tätörtspreparat has been used against whooping cough. The similar fjälltätörten, Pinguicula alpina, differs from the urban area in that it has white flowers.
Occurrence: Main distribution in the North, but also occurs quite commonly in southern Sweden. Grows in moist, often bare ground, in the mountains like the well-worn paths.
Characteristics: A 5-15 cm tall perennial herb. Yellow-green leaves in rosettes, closely pressed against the ground. They are elliptical, without stalks, the wound edges. The sticky mucus secreted by glands on the leaves stick insects, which is dissolved by enzymes secreted by other glands. Violet blue flowers (May-August), solitary on long stems. Five sepals, hopvuxna to two short lips. Crown tvåläppig, with backward spurs, the upper lip is tvåflikig, lower lip treflikig. Stamens 2, pistils second Capsule studios, opens with two valvler seeds numerous. Poorly developed root system. Nearly odorless.
Using parts of plants: Fresh and dried leaves.
Content Topics: Mucus, tanning substances, äggvitespjälkande enzymes.
Medical effects: Cough suppressants, antispasmodic, fever reducing.
Use: Formerly in pertussis.