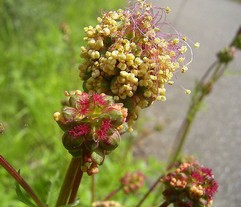 Burnet | Photo: Teun Spaans
Sanguisorba minor Scop.
Rosaceae
Rosaceae
The name Sanguisorba minor is already mentioned by the German 1500 - century writers Conrad Gesner and Johann Thal. Already at that time cultivated plant that soup and herbs in the kitchen garden are. In medicine used
burnet
against catarrh, diarrhea and dysentery and other disorders of the digestive tract.
They hardly noticeable for small heads, crowded flowers are green with hints of purple. They are pollinated by the wind, which is why they, unlike the closely related blood peak, Sanguisorba officinalis, which are pollinated by insects, not smell or produce any nectar. Uprights come in long strings; pistils brands are enlarged and brush-shaped, making it easier for them to catch the flying pollen. Young leaves of burnet has a fresh, cool taste, recalling the cucumber. They can be used in the same way as other fresh green herbs. Tea at pimpinellblad said to have stimulant effect. Burnet has been used as vinkrydda, "red wine and Pimpinella".
Occurrence: Occurs rarely on calcareous soils on dry slopes and cultivated land from Skåne to Upland. Introduced to our country with grass seed or cultivated and wild.
Appearance: A 20-70 cm tall, perennial herb whose stem is angular, almost circular, often with a red tinge. Leaves pinnate with 9-25 oval, toothed leaflets. Flowers in the top consolidated rounded heads, greenish (June-July), with female flowers placed at the top, bisexual flowers in the middle and male flowers at the bottom. Pin red, yellow stamens petal missing. At maturity will flower the bottom hard and solid and
forming a false nut, which encloses 1-3 small fruit. Earth Tribe weak Ligneous. Taste slightly salty. Using parts: The whole plant throughout the growing season.
Content Topics: Tanning, essential oil, flavonderivat, vitamin C.
Medical action: astringent, haemostatic, wind-distribution, digestive, diuretic.
Usage: For bleeding, diarrhea, hemorrhoids, flatulence.