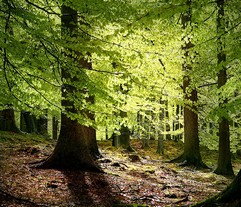 Book | Photo: Malene Thyssen
Fagus silvatica
BOKVÄXTER
Fagaceae
The first beeches occurred on Earth during the Tertiary period, when the climate became colder and wetter. Since the
book
thrives in a climate with rain and fog has settled in the northern hemisphere cool temperate zone. In Sweden, the book's northern border from northern Bohuslän to the north of Småland, planted it grows up to southern Norrland. Forest Formation occurs only in southern Sweden, especially in Scania.
The deep mystery that summer is in a
beech
forest means that the ground vegetation is very insignificant, especially if the soil is poor in
calcium
and nutrients. Some herbs, such as wood anemone and cowslip flowers and grows in the period before the time of flushing, but then disappears again, only the underground rhizome will survive until next spring.
The book's fruits, beechnuts, played before an important role as food for pigs. After refining, they give a very good cooking oil.
NOTE! Beechnuts are toxic in large quantities!
Occurrence: Grows in healthy nutrient-rich soils, forest formation from Skåne to Bohuslän and southern Småland North of this is the book here, and was cultivated in small stocks around the larger farms and castles also use as a park tree in various forms.
Characteristics: 35-40 m tall tree with smooth bark, as a young greenish, as older silver. Leaves light green, somewhat paler underneath, shiny, helbräddade, elliptical. Veins straight, black and white has the edge blooms in the time of flushing in May. Male flowers in a bolliknande the shaft hanging light yellow collection. Female flowers on a short hairy stalk. Acorns with triangular cross section, gloss of dark brown while sitting in a fyrflikig excuse with little tags on the outside. Fruit setting varies considerably from year to year.
Using plant parts: bark 2-3 year old branches, firewood.
Content Topics: The bark tanning substances; out of the wood is prepared creosote, tar.
Medical effects: Antiseptic, astringent.
Use: Boktjära topically at various skin diseases. Water Extracts of the bark of gargling and wound healing.