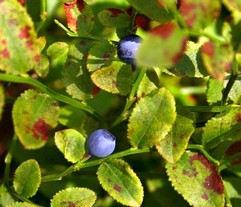 Blueberries | Photo: Pleple
Vaccinium myrtillus
HEATHER
PLANTS
Bricaceae
Blueberries
can be picked on fairly moist and rather nutrient-poor soil in coniferous and deciduous forests and heaths, often in vast stocks. One can also find good blueberry places a piece up in the mountains. A blueberry bush can be up to thirty years old. The berries, which under favorable conditions can be very numerous, containing among others. a. A and C vitamins and natural elements in every Swedish household.
The main medicinal properties of blueberries - it is above all the dried berries are used - is the stopping effect they have on diarrhea, which is due to their high content of tannins. Tannins are bound in such a way that they released the first in the intestine and does not affect the stomach. Fresh berries can, however, seem delisting. The leaves have dried and chopped form used against urinary tract infections, the blood glucose lowering effect often attributed to them are very controversial. Juices can be used for gargling in the inflammation of the mouth and throat and in folk medicine sometimes used topically to wounds and rashes.
Occurrence: General in the whole country, except in parts of Skåne.
Feature: Summer Green, 30-50 cm tall shrub (or the rice) with green, angular, branching twigs. Leaves oval, pointed, sawed with short handles. Flowers pink electricity. rarely greenish (May-June), with a vague five-flap term feed, krukliknande 5-lobed crown pendant. Powerful, richly branched tuber. Berries round, blue-black, dewy with several seeds. Taste sour to sweet.
Using plant parts: mature berries, leaves.
Content Topics: In the bar of organic acids (malic, citric,
china
acid), tannins of tannintyp; antocyaninpigment (cyanine, delphinidin, malvidin, petunidin). Vitamins A and C. The leaves of organic acids (benzo, apple, amber,
china
acid); triterpensyror (ursol-oleanolsyra); tannins of katekintyp; neomyrtillin.
Medical effects: Leaves slightly lower blood sugar. Berries antidiarroisk, vitamin P effect.
Uses: The leaves of mild diabetes. The bar internally for diarrhea and externally at the mouth and throat inflammations Preparations with blåbärsantocyaniner inside the capillary.