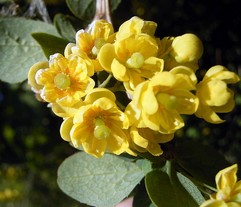 Berberis | Photo: Sten Porse
Berberis
vulgaris
BERBERISVÄXTER
Berberidaceae
Barberry is a spiny shrub that used to be fairly common in southern and central Sweden and also was a popular ornamental shrub. Unfortunately, the host for wheat rust, a dangerous fungal disease on corn, which is why in many places have tried to eradicate it. Rust fungus produces spores on berberisbladen, and the spores are passed by the wind over the cornfields, where the fungus destroys such the flowers.
Barberry bush berries have a tangy flavor, is rich in fruit acids and vitamins and can be pickled or used for juice. It is above all the bark from the wood and roots that have medical uses. These plant parts contain such the yellow, large quantities of toxic alkaloid Berberine. Only the red berries are harmless. The flowers are yellow and smelly. Stamens bend suddenly inwards when a visiting insect concerns strings bass, with pollen being thrown out, what lands on the insect is then sent to the next flower. From the barberry, one can also obtain a yellow color.
NOTE! All plant parts are poisonous in large quantities, except the berries!
Incidence: Less common in the hills and forest edges from Skåne to Värmland and Dalarna and locally along the northern coast of Västerbotten. Cultivation is permitted only in botanical gardens.
Characteristics: Densely branched shrub, up to 3 m high. Wood hard, yellow. Bark bitter. Leaves narrowly oval, horse sawed. Branches with triple towers. Blooms in June with yellow, hanging clusters. The flower has six sepals, petals and stamens and an ovary Bar slender, about 5 mm.
Using parts of plants: Root and stem bark, fruit.
Content Topics: The root, especially root and stem bark contain huvudalkaloiden Berberine and the Related bialkaloiderna jatrorrhizin, columbamin, palmatin, berbamin and oxyacanthin. The fruit alkaloidfri, which contains the mature fruit acids and vitamin C.
Medical effects: Root and stem bark is escalating appetite, tonic, fever-lowering, uterine astringent.
Use: Root and stem bark as a tonic and appetite growing medium and menstrual disorders. The unripe fruit of capers, ripe for jams, jellies, lozenges, syrups.