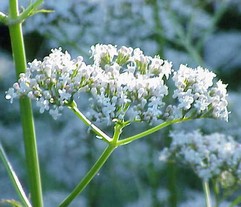 Valerian | Photo: Kurt Stüber
White nysrot
Occurrence:
Valerian
a officinalis grows in damp meadows in Central Europe and Asia. For tincture used the dried root. The active substance is an essential oil, 4 alkaloids and an acyclic ether acid. For the homeopathic drug picture is not the calming effect of importance without motfasen. With prolonged use causes
Valerian
namely restlessness, circulatory disorders, tremors, insomnia, abdominal gas and wandering pains.
Etiology: due to hypersensitivity, insomnia, mental stress, imitation, inner turmoil.
Modalities: Worse: standing, sitting, at rest, after effort.
Better: light exercise.
Constitution: Red, warm, lively, very pain-sensitive, cheerful, absent-minded, jaded, anxious.
Indications: Anxiety, given flight (leading), globus hystenicus, insomnia, flatulence, intestinal cramps in infants, ischialgi better to go.
Potency: D3 - D6.
Comparison:
Asa foetida
,
Ignatia
,
Moschus
, Zincum valerianicum.