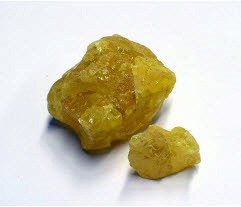 Sulfur | Photo: Didier Descouens
Sulfur
Sulfur
is in the periodic third period, between the two highly reactive elements
phosphorus
and
chlorine
, and also holds, through its chemical properties, an intermediate position between the neighboring elements are.
Sulfur
occurs in solid, liquid and gaseous state, and joins, often under fire, with almost all other elements (except nitrogen,
iodine
, gold). The major
sulfur
compounds are sulphides.
Occurrence: The
sulfur
is in the middle soil layer at 1200 - 2900 km depth and reach through volcanic eruptions. The plants get their
sulfur
partly from sulphates and sulphides, and partly by degradation of organic matter to hydrogen sulphide, which is oxidized to
sulfur
and further to sulfuric acid. Plants stores' reserve
sulfur
"in the form of sulphate, but critical to the biochemical processes are organically bound
sulfur
in enzymes and proteins, Lex. acetylcoenzym A. Even in the human organism occupies
Sulfur
a key position and is found in all proteins, several vitamins, hormones and co-enzymes. Much
sulfur
containing skin (keratosulfat) and cartilage (chondroitin sulfate).
Toxicology:
sulfur
basic effect is due to a oxidationshämning. This leads to an accumulation of toxic waste products in the liver and other organs. The toxins in turn seems irritating or paralyzing the nerves and blood vessels. The liver also plays a crucial role in the digestion process and it becomes understandable that bowel dysfunction is at the forefront of the
sulfur
image. Therefore,
Sulfur
as homeopathic include a suitable activator for chronic diseases and affects mainly the skin, joints, liver and portal vein circulation, digestive tarnikanalen and spiritual functions.
Etiology: Effect of suppression, metabolic disorders, followed by the humiliation, spiritual and mental maturity. Consequence of alcohol and drug abuse. Result of sexual excesses, sleep disturbances.
Modallteter: Worse: wet, cold, washing, bathing, standing, at rest, at night and morning, the weather changing. With the exception of hudklådan and the burning feet in the vocal warmth, the symptoms improved by heat, light exercise and fresh air.
Constitution: Red-pale, strong, weak, agitated to depressed, lovable, choleric, melancholic, irresolute, egocentric, dirty, smelly, couch potatoes without interest.
Indications: Depression, hypochondria, sleep disturbances, dizziness after infectious diseases, eyelid, conjunctivitis, subacute and chronic catarrh of andningsvägama, pneumonia, gastritis (proven), metal poisoning, intestinal catarrh with constipation and hemorrhoids (proven), veninflamination, ulcers varicosum (proven), muscle - and ledreurnatism (proven), gout, eczema (proven), acne (proven), furuncle.
Potency: D6 - M.
Comparison: Barium,
Calcium
,
Graphite
, Lycopodium, Psorinum, Tuberculinum,
Sepia
,
Silicea
.
Magnesium
Carbonicum follow me at
Sulfur
.