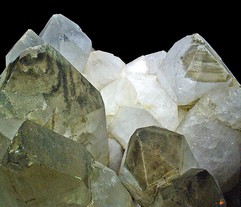 Silicea | Photo: H. Zell
Silica
Next to oxygen,
silicon
is the most prevalent element in the lithosphere, it represents about 25% of the earth's crust. Silica exists purely as rock crystal (quartz) and is chemically
silicon
acid anhydrite. Silicic acid is of colloidal nature, a silica molecule can bind 330 water molecules and thereby released in gel form.
Silicon
dioxide reacts very slowly and is attacked only by fluorine. Plants need
silicon
acid as a support agent, the silk worm is an essential nutritional factor. In these animals are of
silicon
acid in support substance, in the birds, the feathers that are high in
silicon
. In humans accumulate
silicon
in connective tissue, skin, nails and hair. Total concentration in the human body is not more than 0.00 of 1%. Even in the human body is
silicon
acid structure giving and assumes an antithesis to calcium's support function. The silica structure is difficult to attack chemically and physically. The association includes no real solutions but only colloidal dispersed and kolloidema is not biodegradable. Why is
silicon
acid to some extent an antithesis to the organic functions and accumulate in body parts with little or no metabolism. As a homeopathic remedy
Silicea
has a slow and lasting effect and are used mainly for chronic, recurrent and alternating course of the disease. "Values ​​of the homeopathic method, a day exploring the substances healing powers and make them available through special preparation, can hardly be illustrated better than by this commonly used substance with great healing powers so often has been confirmed ..." (Lee).
Etiology: Effect of chronic infections lasting progress, immune weakness, suppression of physiological and pathological secretions. Result of fears, fear, low self-esteem, sexual excesses, mental, spiritual, physical effort.
Modalities: Worse: cold, wind, tension (go to bed with a scarf on), touch, sudden noises, being contradicted, at night, through sweating (smelly secretions).
Constitution: Pale, cold, lack of natural warmth and vitality, shy, insecure, painfully sensitive, easily startled, irritable, stubborn, forgetful, absent-minded.
Indications: Spiritual exhaustion, neuralgia, migraine (proven), ögoninflarnmation (proven), chronic rhinitis, chronic bronchitis (proven), periodontosis (proven), kidney stones, colic (prevention, proven), lymph node swelling (proven), eczema, furuncle, fistulas, ärrkeloid (proven).
Potency: D6 - D200.
Comparison:
Hepar sulfuris
,
Calcium Carbonicum
, Lycopodium,
Magnesium
,
Staphisagria
,
Sulfur
.