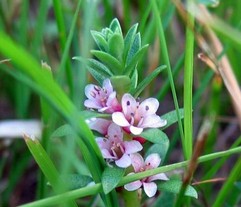 SENEGA | Photo: Kristian Peters
Bistort
Polygala
SENEGA
(fam Polygalaceae) is native to North America. For tincture used the dried root. The drug is saponinrik. The homeopathic effect involving the mucous membranes of the respiratory and urinary tract.
Modalities: Worse: touch, palpation, percussion of the chest, at rest, in the evening.
Better: sitting up, bending the head backwards.
Constitution: Pale, bloated, cold, flabby, old, weak.
Indications: Emphysema, asthma bronchiale with dry cough and viscous mucus, tenderness and feeling severe pain in the chest wall (pleural inflammation), incontinence when coughing.
Potency: D3 - D200.
Comparison: Antimonium. sulfuraturn auratum,
Bryonia
,
Causticum
, Sticta.