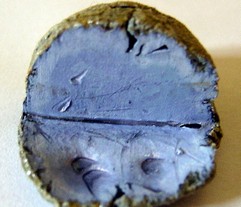 Potassium | Photo: Bxxxd
Occurrence: The Earth's crust contains about 2.5%
potassium
, bound in such granite, feldspar and mica. Through weathering and leaching ports
potassium
in the soil. Sea water contains only 1, 1%
potassium
. For plants is
potassium
a vital part of metabolism.
Potassium
handles "elasticity" of the colloidal protoplasmat.
Potassium
deficiency gives a paralysis of eg bladen.Kalium is one of the most important elements of the human cellular metabolism. 96% of the total amount of
potassium
is inside the cells.
Sodium
,
potassium
,
magnesium
and
calcium
are the so-called tonic elements. Their interaction is responsible for the tension between the extra-and intracellular level.
Potassium
and
sodium
favors permeability,
calcium
and
magnesium
inhibits it.
Potassium
is also vital for nerve function that control muscle activity and vegetativum. Homeostasis of
potassium
and other mineral cations is ensured by neuro-hormonal regulation.
Potassium
deficiency leads to reduced muscle tone, blood pressure and paralysis. We see that the
potassium
in the human organism is responsible for "resilience". In
homeopathy
, a series of
potassium
salts. Pharmaceutical picture of
Potassium Carbonicum
provides the purest form of the
potassium
effect. The other preparations dorrlineras often of the anionic components.