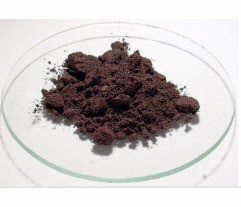 Phosphorus
Yellow
phosphorus
Occurrence: Pure
phosphorus
occurs because of their reactivity is not free in the wild. The main
phosphorus
minerals are phosphorit and apatite. Yellow
phosphorus
was used earlier in the match manufacturing but was banned at the turn of the century because of its toxicity and flammability. Yellow
phosphorus
glows in the dark and Spontaneously flammable in air and is insoluble in water and alcohol.
Phosphorus
plays a vital and versatile role in växtemas and animal energy metabolism and is therefore in many organic compounds, such as
lecithin
, the nucleic acids, in futin etc. Inorganic phosphate present in all body fluids and cells, but mainly in the bones.
Toxicology: Acute poisoning leads first to a severe gastroentent with burning pains, vomiting and shock. Exhaled air, kräkningama and feces smells of
garlic
and sometimes shines in the darkness. Has the victim did not die within the first 8 hours following a symptom period of relatively well-being, but with weakness and disorders of the intellect. After about a week proves difficult consequences of giftresorptionen in the form of vomiting, diarrhea, and severe pain in liver area, then follow it to the poisoning typical jaundice. The sick man's strength decreases rapidly, the pulse becomes weak and bleeding occurs in the skin and mucous membranes. In many cases, the victim of clear consciousness until shortly before death, in other cases, the problem sleepiness and delirium. The chronic poisoning leads to osteoporosis, secondary infections and fatty degeneration of the liver and kidney tissue and in cardiac muscle. Blodkoaguleningen is reduced with internal bleeding as a result. Although
phosphorus
is an essential element that is all poisoning with elemental
phosphorus
devastating to the organism, leaving irreparable damage behind. Potency
phosphorus
is a valuable polykrest with great versatility. The agent seems more acute and subacute disease states.
Etiology: Effect of spiritual, physical, spiritual effort. Result of fear, anger, fear, expectation tension, worry, agitation, others disdain, sexual excesses. Result of rapid growth, loss of body fluid.
Modalities: Worse: before a thunderstorm, on an empty stomach, cold, fresh air, be on the left
hand, at night, pressure, touch (bruises), light, smell.
Better: bathe in cold water, short sleep.
Constitution: Intellectual fatigue, anxiety, school headaches, dizziness with tinnitus, degenerative synnervsförändringar (proven), laryngitis, bronchitis, bronchial asthma, myocarditis, Basedow, ulcers, gastritis, gastric hemorrhage, hepatitis with jaundice, rickets, osteoporosis. The appeal goes hand in hand with burning pain.
Potency: DI 2 - D200 in dilution because
phosphorus
oxidizes at triturationsförfarandet.
Comparison:
Acidum Phosphoricum
,
Calcium Phosphoricum
,
Natrium Muriaticum
,
Arsenicum album
,
Jodum
,
Lachesis
,
Sulfur
,
Veratrum album
.