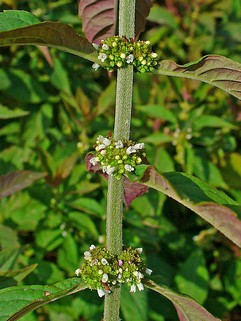 Lycopus Virginicus | Photo: H. Zell
Occurrence: Lycopus belong in North America. The key elements are flavonglykosidenlycopin and fluorine. Animal experiments showed that Lycopus disable pituitary thyreotropa and gonadotropic hormone. This effect is the explanation for the homeopathic use. "Lycopus is a very important tool in the treatment of heart disease in combination with the function of the thyroid gland" (Mezger). "At CLIMACTERIC hyperthyreos it is especially indicated" (Mezger): "I know no other medium that is characterized as a hormonal anxiety" (ASSMANN): "It is true that Lycopus is not the only homeopathic medletför hyperthyreotiska illness, but it has many times prevented severe procedures such as surgery or radiation therapy "(förf. note.).
Potency: D3 - D6 in dilute or spagyrisk.
Comparison:
Acidum fluoricum
,
Jodum
,
Lachesis
.