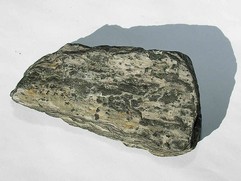 Lapis Albus | Photo: Luis Miguel Bugallo Sánchez
fluorkalciumsilikat
Occurrence:
Lapis albus
occurring in the district of Bad Gastein in Austria and was introduced by GRAUVOGL. The agent is only fragmentary tried to prove to be effective against particular glandular swellings and goitre. The agent has also very similar to
CALCIUM FLUORICUM
and
Silicea
. Some homeopaths prefer Lapis albus front of
Silicea
in myoma and uterine cancer. Stauffer gives the antidote to 'goiters with hard bindvävsinlagringar "at the growing moon D6 - D3 0, 1 gg per day and at the waning moon of a suitable jodmedel.
Potency: D4 - D30 in triturations or tablets.
Comparison: All products containing
calcium
,
iodine
, fluorine and
silicon
.