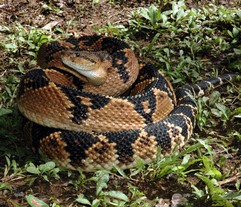 Lachesis | Photo: Christopher Murray
Bushes must marry
Occurrence: The snake found in Central America and belongs to the family Crotalidae. The snake venom contains a number of strong enzyme. The porteolytiska, coagulation and cell-dissolving effect outweighs the neurotoxic. The bite is almost always fatal.
Toxicology: The poison spreads very quickly in the body with cold sweat, weak pulse, difficulty breathing, vomiting and diarrhea as a result. Death occurs after repeated collapses due to respiratory paralysis. This rapid progress is relatively symptom poor and therefore it was only through Hering's clinical trial that we had a typical drug picture.
Etiology: Effect of sepsis, poor healing, malignant infection, coronary thrombosis, sunstroke, fever, viral illness. Result of anger, annoyance, disappointment, fear, worry, jealousy, love, disappointment, abuse, mental overexertion, alkoholrnissbruk.
Modalities: Worse: on the left side (onset of symptoms on the left side and moves to the right), loss of secretions (menstruation, sweating), heat, sun, warm rooms, hot baths, touch, can not have crowded around her neck, through sleep, in the morning, wine, beer, tobacco, rest.
Better: The movement of fresh air.
Constitution: Red, hot, humid, euphoric, talkative, anxious, suspicious, unwarranted jealousy, fights greedy, forgetful.
Indications: INTERNAL-SECRETION disorders (thyroid, menopause). Hot flushes with anxiety, sweating, alternating with coldness (senior), hypotension with weakness, epilepsy, delirium tremens, sunstroke, Influenza (proven), angina pectoris, Basedow, hypertension, embolism, infarction, stomatitis, parotitis (proven), gallblåseinflammation (proven ), hepatitis with jaundice, acute arthritis with endokartid (proven), furuncle, carbuncles (purple color!).
Potency: D12 - D200.
Comparison:
Hyoscyamus
, Nux vornica,
Magnesium
Carbonicum,
Spigelia
,
Jodum
,
Sepia
, Creosote, Sanguinaria,
Sulfur
, Naja.