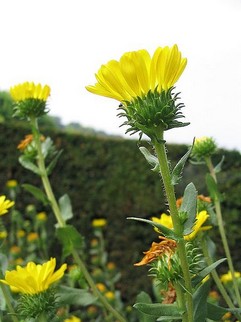 Grindelia Robust | Photo: Jeantosti
Occurrence: grindelia occur in California. For tincture used the dried herb.
Toxicology: The herb induces paralysis that starts at the extremities. Cardiac activity increases first, and then subside. In
homeopathy
used grindelia almost exclusively in bronchial asthma and bronchitis.
Modalities: Worse: lying down, when falling asleep, mucus.
Constitution: Red, hot, humid, weak.
Indications: Bronchial asthma with viscous mucus, bronchitis, emphysema, shortness of breath;
Potency: D6.
Comparison: Teucrium,
SENEGA
, Aralia.