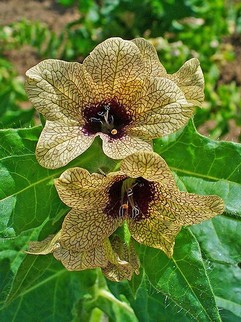 Hyoscyamus | Photo: H. Zell
HENBANE
Occurrence: henbane belongs to the family Solanaceae and is close to
Belladonna
,
stramonium
, and
Mandragora
. For the tincture is called the fresh flowering plant.
Toxicology: The active ingredients are the alkaloids 1-hyoscyanlin and d-hyoscyamine, I scopolarnin and atropine. This compared with
Belladonna
high scopolaminhalten allows paralysis symptoms are in the foreground. The central nervous system teasing extensively but almost without febersyrntom. Irritation manifests itself in delirium with great restlessness and confusion, combined with talk sick and obscene behavior, great suspicion and jealousy. This is followed by spasm of the upper airway and trembling all over. The vast scopolarnineffekten manifests itself also in Flyoscyamusförgiftningens relative freedom from pain. Therefore,
Hyoscyamus
during the Middle Ages that drug. Paralysis affects mainly bladder and rectum.
Etiology: Effect of annoyance with anxiety, emotion, fear, worry. Result of
love, disappointment hjärntraurna, anesthesia.
Modalities: Worse: night (cough), to lie down, during menstruation, touching, comforting, music.
Better: to be left undisturbed.
Constitution: Pale, cold, dry, garrulous, obscene, afraid of poison, jealous.
Indications: delirium, hallucinations, mania (proven), exhibitionism, hysteria, non-inflammatory hjärnsjukdornar, Sydenham's chorea, lactation psychosis, epilepsy with cri encephalique and subsequent deep unconsciousness, nymphomania, Pavor noctumus, dry cough, singultus, involuntary termination of urine and feces.
Potency: D12 - M.
Comparison:
Belladonna
,
Lachesis
, Agaricus,
stramonium
, Veratrum.