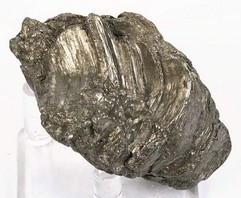 Graphite | Photo: RK Bot
Ritblyerts
Occurrence: Pure
graphite
is crystalline carbon, but the homeopathic ursubstansen is contaminated with silica and
iron
, which has affected the pharmaceutical picture. In contrast to amorphous carbon (Carbo vegetabilis et animalis) graphite has a smooth finish. Toffee Tower are forming small hexagons and the structure is solid, the reaction sluggish and chemically inert. As a homeopathic remedy seems Graphite on the skin, digestive tract and gonads. The common thread through the medium is the lack of metabolism, reaction inertia, which manifests in the skin, the gut and the psyche.
Etiology: Effect of chronic diseases, in press. Following the function, puberty, menopause. The assumption excitement, fear, worry.
Modalities: Worse: heat, bed heat (itching), cold, drafts, during and after menstruation, exercise, music, constipation.
Better: chair, walking, sweating, to go cart, to eat.
Constitution: "bold, cold, constipated," greedy, pale, dry, exhausted, depressed.
Indications: Chronic inflammation and itchy rash with honey-yellow, foul-smelling secretions, heaped, chronic gastritis, atonic constipation, colitis mucosa, hemorrhoids, anal fissures, anal eczema, hypornenorré.
Potency: D12 - D30 - D200.
Comparison:
Acidum nitricum
,
Causticum
,
Natrium Muriaticum
,
Petroleum
, Lycopodium,
Mandragora
,
Sepia
,
Silicea
.