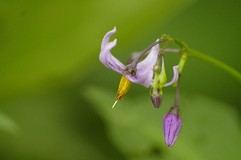 Dulcamara | Photo: AnneTanne
Bittersweet
Occurrence: Solanum
Dulcamara
(family Solanaceae) grows near streams and in damp places in Eurupa, North Africa and Asia. Tincture made from fresh shoots and leaves before flowering. The active ingredients are primarily tomatidenol alkaloid and saponins yamogenin.
Toxicology: Little is known about Dulcarnaras toxic properties. Gessner tells about symptoms similar to Solanum nigrum. eclampsia. Läkernedelsprövningen with potency Dulcamara showed typical symptoms of "feeling cold" and "as if one were cold."
Etiology: Dulcamara is growing by the water and are dealing with diseases caused by damp cold. Symptoms may also be a consequence of suppressed secretions and skin rash.
Modalities: Worse: a sudden change of weather from hot to cold, spring, late summer and fall when cool nights following warm days, sitting on the damp cold ground. Substituting problems: eg asthma or diarrhea instead of a skin rash or arthritis.
Better: dry heat, exercise.
Constitution: Pale, cold, damp, impatient, irascible, cantankerous.
Indications: Bronchitis, asthma, gastro-enteritis due to colds, cystitis after sitting cold (proven), rheumatic muscle pain, neuralgler (proven), herpes, urticaria.
Potency: D6 - D30.
Comparison: Aristolochia,
Sodium sulfuricum
,
Rhus toxicodendron
, Thuja.