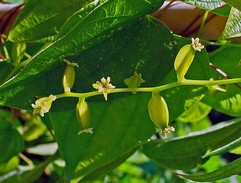 Dioscorea villosa | Photo: H. Zell
Yams
Occurrence: The plant occurs in North America. As a tincture use the fresh root. As an active substance listed saponinet diosgenin.Läkemedelsprövningen shows an effect on the autonomic nervous system that manifests itself in the form of spasms and colic-like pains in the digestive tract.
Etiology: Effect of seizure susceptibility, decreased enzyme production.
Modalities: Cramp-like, radiating, wandering pains,
Constitution: Pale, cold sweat.
Indications: Stomach cramps, gallstone colic, diarrhea, dysmenorrhoea, muscular rheumatism.
Potency: D6 - D30.
Comparison:
Belladonna
,
Mandragora
, Bismutum.