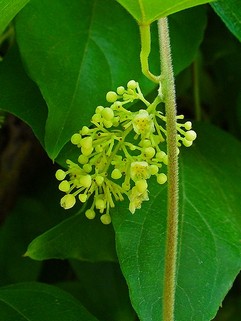 Cocculus | Photo: H. Zell
Kokkelbuske
Occurrence: Bush (Anamirta
cocculus
) grows including in India and in Ceylon. For tincture used the dried gray-brown berries.
Toxicology: The active substance, picrotoxin, a convulsive poison. Clonic-tonic convulsions go hand in hand with a constriction of the pupils. The poison frarnkallar vomiting with increased saliva and sweat secretion, heart rate slows, blood pressure increases and the increasing intoxication stops breathing. Small amounts of poison causes headaches, dizziness, nausea, general depression, ataxia and twitching of muscles. As a homeopathic remedy Cocculus appear mainly on the brain, spinal cord and sympatikus.
Etiology: Effect of spinal cord disease, alcohol use, night work. Result of insomnia, motion sickness, worries.
Modalities: changing pages of the disorder. Worse: to travel by car, boat, airplane, overwork, fear, anger, grief, interrupted sleep, but even after sleep, food, drink, tobacco, coffee, fresh air.
Constitution: Pale, cold, damp, hypersensitive, irritable, brooding, anxious, odiciplinerad.
Indications: Nausea, nervous disorders unable for reasons lack of sleep, nervous, digestive disorders, spasm of the esophagus, gastritis, neuralgia, palsies, pain during ovulation, brachialgia paraesthetica Nocturne.
Potency: D6 and higher.
Comparison:
Petroleum
,
Hyoscyamus
,
tabacum
,
Causticum
, Gelsemium.