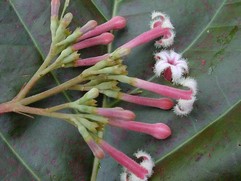 China | Photo: JoJan
China
Bark
Occurrence: Cinchona succiruba, china tree grows in South America's western part and cultivated in the East Indies. For tincture used dried bark of the twigs that contains about 20 alkaloids, the most important are: quinine, kinlidin, cinchonin and cinchonidin.
Toxicology
China bark most characteristic alkaloid, quinine, is a strong protoplasmic poison, and is therefore used as a disinfectant against protozoa. Malaria by quinine can not be explained without active use of the organism. The blood can not reach high enough kininkoncentrationer to kill malariaalstraren. Quinine inhibits vävnadsenzymerma with disturbed heat regulation as a result. China fever, which was Hahnemann's observation that contributed to the discovery of simileregeln. Furthermore, quinine causes bleeding with concomitant splenic enlargement, and transient blindness and deafness with tinnitus. Quinine seems p capillary with cold, lowered pulse and collapse.
Etiology: Effect of overwork, chronic illness, convalescence. Due to fever, bleeding, loss of body juices, tuberculosis.
Modalities: Worse: cold, wet, touch, food, rest, sleep, light, sound, periodically.
Better: heat, pressure.
Constitution: pale, weak, sweaty, irritable, hypersensitive, exhausted.
Indications: Periodic headache, trigeminal neuralgia, Ménlére, bronchitis, gastritis, prophylactically in gallbladder, meteonism, gallkolik, menorrhagia, urticaria, angioedema, Polyarthritis, rheumatica, gout, malaria, tuberculosis
Potency: D6 and higher.
Comparison: Arsenicum,
Cedron
, Lycopodium,
Carbo vegetabilis
,
Phosphorus
,
Sulfur
.