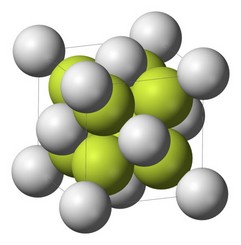 Calcium Fluoricum | Photo: Benjah-bmm27
Calcium
Fluoride
Occurrence: As ursubstans used mineral
calcium
fluoride
which is contaminated with silicic acid. Julius MEZGERs clinical trial (1953) contributed to the product's increased estimate in
homeopathy
.
Etiology: Effect of weakness, fatigue, körtelförhårdnad. Result of physical, mental over exertion, apathy. Result of the sun, X-rays.
Modalities: Worse: night, twilight, bed heat, sun, heat, pressure, touch, cold, traction, alcohol, coffee, sleepless from 3:00 to 5:00.
Better: after dinner, in the morning coolness.
Characteristic symptoms Unit: osteokondros in the cervical spine in combination with benign goiter, chronic tonsillitis and chronic sinusitis.
Constitution: Red, euphoric, pale, depressed, boastful, restless. Lee writes: The product is suitable in the aging of the active, busy people, for example. the old director of the Congress comes up with a young secretary, or the ferment glancing old lady that pulls through the country with a younger lover -.
Indications: Atrophic rhinitis, bronchitis, goiter, tooth decay, sty, cataracts, varicose veins, gastritis, anal fissure, arthritis, Morbus Schlatter, lumbago.
Potency: D6 - D200.
Comparison:
Jodum
,
Arsenicum album
. The product complements
Silicea
and
Pulsatilla
.