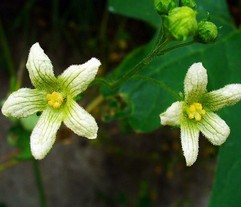 Bryonia | Photo: H. Zell
Hundrova
Occurrence:
Bryonia
grow on moist soil near fences and hedges. A powerful root of great height, and weight giving the plant a safe anchorage in the soil. Tincture prepared from the fresh root.
Toxicology: The active ingredients are cucurbitaciner and bryoamarid, bryodulcosid, bryonol and bryononsyra and a-spinasterol - a resin with a strong laxative effect - and finally kryofansyra. Acute poisoning gives drastic diarrhea, local irritation of the skin occurs with blistering, followed by mania, convulsions and respiratory paralysis. As a homeopathic remedy Bryonia appear on the mucous membranes, the serous membranes (eg, pleura, synovia, perikard), hepatobiliary system, and muscles, tendons and joint capsules.
Etiology: Effect of annoyance, outrage, horror, business worries. Result of suppression (rash, menstruation, runny nose). Due to pneumonia, rheumatic fever, flu, colds.
Modalities: Worse: warm room, bed heat, warm clothes, good weather, touch, motion, vibration, in the morning, upon rising, after food.
Better: pressure, lying on the diseased side, rest, excreta, fresh air, to drink cold (except indigestion).
Constitution: Red, hot, dry, thirsty, bloated, violent, choleric. For Bryoniapersonlig-unit writes Gutman: "It is not the artist or philosopher, explorer of the beautiful and unknown who disdain existence substantive grounds, but it is the businessman, accountant, the man with a little imagination and a lot of calculation, a" dry "neighbor, reliable, methodical and tenacious as going over every step .... Bryonia corresponds to a widespread basic attitude, as they call it the economic man. No wonder that Bryonia is one of the most common polykretserna in our practice. "
Indications: Meningitis, influenza, bronchitis, pneumonia, pleurisy, pericarditis, peritonitis, jaundice, muscle and ledreumatism, tendovaginit.
Potency: D6 - D12.
Comparison:
Phosphorus
,
Potassium
and
Sulfur
Carbonicum follow me in Bryonia, Asclepias,
Ferrum
phoshoricum, Ranunculus bulbosus.