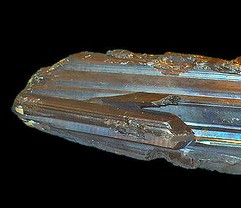 Antimonium Crudum | Photo: H. Zell
Grey lace shine
Occurrence: Grey or black lace shine - Sb2S3-is the most abundant antimony. Of the two components of antimony and
sulfur
, antimony has been the predominant therapeutic effect. The metal antimony is in the periodic table between arsenic and bismuth, and there are some similarities among these three substances physiological effect. In the human organism, there is no antimony, it is a completely foreign to the body substance.
Toxicology: Antimony-volleys induce severe inflammation of the skin leaving the pox-like scars behind. Although internal use gives skin symptoms, especially on the genitals, arms and back. Determination Symptoms: "Large calluses on the soles of the feet tightly at the base of the toes" confirms antimony growth-promoting effect on the skin. Chronic poisoning gives sores in and around the mouth, gastrointestinal discomfort, thick white coating on the tongue and colic-like pains in the liver area, and fatty degeneration of the liver. The results of drug trials is generally consistent with poisoning symptoms.
Etiology: Impact of rheumatic predisposition. Result of too much food, drink and sleep. Consequence of obesity, sunstroke, cold baths.
Modalities: Worse by temperature extremes, sun, heat, hot room, touch, comfort, terror, acid, cold food and drinks.
Better: Rest, to lie, in the fresh air.
Constitution: Pale, greasy, mismanaged, ill-humored, do not want to talk, boredom, suicidality (shooting himself), sleepy, dull. Children are excruciating, repellent, do not want to look at them or taking them.
Indications: Headache: associated with gastrointestinal problems, sinusitis frontalis bindhinne-inflammation of the cornea.
Gastro-intestinal: Acute gastritis, summer diarrhea, hemorrhoids with mucous secretion, chronic diarrhea, liver out gradient, hepatitis epidemica.
Breathing Trucks: Chronic rhinitis, laryngitis, rhinopharyngit, bronchitis, whooping cough. Dry itchy rash, painful calluses and thickening on the soles. Nail Growth Disorders, Clavus Dupuytren contracture, urticaria.
Muscles and joints: Gout alternating with digestive disorders and bronchitis, neuralgia, lumbago.
Potency: D6 - D30.
Comparison:
Dulcamara
,
Chamomilla
,
Nux Vomica
,
Pulsatilla
,
Rhus toxicodendron
,
Mandragora
.