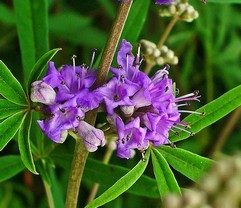 Agnus Castus | Photo: H. Zell
Monk Pepper
Occurrence: The plant occurs in southern Europe and has traditionally been used against the moderate libido. For homeopathic preparation used mature fruiting bodies. The active ingredients are casticin, agnusid and aucubin, which in clinical trials resulted in a rise in milk secretion in nursing mothers. Side effects are not known. In
homeopathy
used
agnus castus
in potency disorders, ovarian disorders, myomblödningar and premenstrual symptoms.
Etiology: Effect of overwork, impotence, masturbation. Due to night work, and insomnia.
Modalities: Worse: cold, pressure, touch, during cooling, alcohol, coitus.
Better: heat, warm clothing.
Constitution: Pale, hypochondriac, nervous, exhausted, depressed.
Indications: Weakness unable for reasons sexual exhaustion, impotence, (proven), premenstrual rash, secondary amenorrhea, hypogalakti.
Potency: D6 - D12.
Comparison: Axistolochia,
Pulsatilla
,
Staphisagria
,
Selenium
.