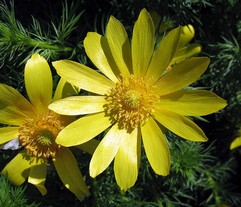 Adonis vernalis | Photo: Nova
Our Doni
Presence: Our Doni found in the Danube countries, in Ukraine and the Black Sea.
Toxicology: The plant contains digitalisliknande glycosides which causes peripheral vasoconstriction and in large doses an increase in blood pressure. Adonis does not occur in KENT repertorium and including therefore chosen agent is often based on clinical cardiac symptoms.
Etiology: Impact of influenza, pneumonia, obesity. Due to gout, rheumatism, kidney infection.
Indications: Cirkulationsdekompensation, arrhythmia, nervous heart problems, decreased urine output.
Potency: D6
Comparison: Aconit, Digitalis, Apocynum.