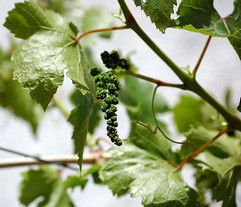 Vine | Photo: Yves Remedios
Vine
VINE (Vitis vinifera) Vines. Dominating, inflexible.
Dr. Bach: "For individuals who are very talented and has a large measure of self-assurance and confidence in their own ability. Because they have such confidence in their abilities, they believe that it would be beneficial to others if you could persuade them to act the way they are satisfied is the most appropriate. In case of illness, they want to please conduct the people who care for them. These people can be very useful in emergency situations. "
Examples of symptoms: An tendency to use his great talents to gain power over others. Request and expect absolute obedience from others. Tyrant at home, the stern parent. Aggressive pride. Greedy for authority and power. Ruthless in their methods to get what you want. Enjoy power, can be hard and cruel without compassion.
Positive change: Developing humility and compassion. Use its authority to the satisfaction of other charitable ways. Can see and understand their fellow human beings and not just treat them as pawns in their own power games. Could be a natural leader and teacher who helps others find their own ways and means.