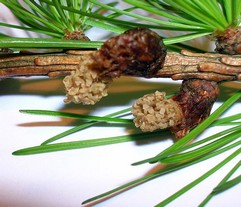 Larch | Photo: Rosser
Larch
LARCHER (Larix decidua) Larch. Lack of confidence.
Dr. Bach, "Larch is a means for those individuals who consider themselves as capable or talented as others around them. They expect to fail and therefore do not think it is useless to try, or effort, they are not enough to succeed. "
Examples of symptoms: no self-confidence. Convinced that fails, "not even worth trying" attitude. Feel inferior to others and possess a false modesty (known in itself in secrecy that the ability is there). Admire others' successes without jealousy. By putting yourself at a disadvantage, you need not risk failure.
Positive change: Decisive, strong-willed and self-confidence. Place less importance on if you fail or succeed. Get in touch with their own internal capabilities and dare to believe in it.