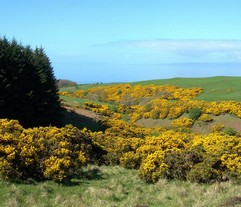 Gorse | Photo: Mary and Angus Hogg
Gorse
Made (Ulex europaeus) Gorse. Hopelessness, despair.
Dr. Bach: "Individuals who suffer from high levels of hopelessness. Have given up hope that something more can be done for them. Other people's influence and their own desire to be the surroundings of the team can get them to try different treatments, but they are of the view that nothing can be done. "
Examples of symptoms: Depressed, resigned, gave up. Resignation after having been told that nothing more can be done. Must continue to endure suffering and may harbor a belief that suffering is hereditary and therefore inevitable.
Positive change: New hope, belief that everything will be all right at last. Realize that the attitude of hopelessness acted as barriers to recovery. Insight into the ability to influence their own situation for the better.